URGENT: Funding Crisis
This is just what poachers were waiting for.
As domestic issues dominate the media, we can't forget that Africa's elephants are in immediate danger. Our budget shortfall may force us to cut back proven species protection programs – clearing the field for poachers.

Please don't let this funding crisis endanger wildlife. Join us now with your tax-deductible gift.
Please select your tax-deductible gift amount below *
How We Use Donations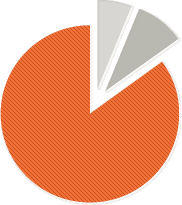 87% Programs
9% Fundraising
4% Administrative
Our Mission
The African Wildlife Foundation is the leading international conservation organization focused solely on Africa. For over 50 years, we have worked to ensure the wildlife and wild lands of Africa will endure forever.
Wildlife
We protect over 80 threatened and endangered species through anti-poaching efforts, the creation of conservancies, research, and community collaboration.
Land
We partner with governments, organizations, and people to protect land, maintain biodiversity, and develop environmentally friendly practices.
People
Together with the people of Africa, we create positive, environmentally conscious change through community empowerment and economic development.