If we let down our guard… they could be gone in an instant
Give monthly to provide reliable protection
Monthly giving is the most powerful way to safeguard elephants, rhinos, lions, gorillas and other beloved species.

Don't let Africa's wildlife become history. Join our community of monthly donors today to help protect Africa's treasured species. Rest assured, you can cancel or update your monthly gift at any time.
Please select your monthly tax-deductible gift amount below *
How We Use Donations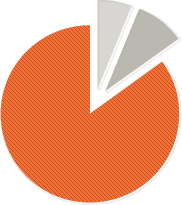 87% Programs
9% Fundraising
4% Administrative
Our Mission
The African Wildlife Foundation is the leading international conservation organization focused solely on Africa. For 60 years, we have worked to ensure the wildlife and wild lands of Africa will endure forever.
Wildlife
We protect over 80 threatened and endangered species through anti-poaching efforts, the creation of conservancies, research, and community collaboration.
Land
We partner with governments, organizations, and people to protect land, maintain biodiversity, and develop environmentally friendly practices.
People
Together with the people of Africa, we create positive, environmentally conscious change through community empowerment and economic development.